Home » Airport Info »
Lost Luggage at Alicante Airport
What should you do if your luggage doesn't arrive on the luggage carousel or if you lose any items at the airport?
Luggage that is Lost or Delayed by your Airline
After waiting to be sure that your luggage has not arrived on the carousel, go to the lost luggage office in the baggage reclaim area at Alicante Airport. They will be able to tell you where your luggage is and when you can expect it to arrive.
If your luggage cannot be found in the airline's system, it is probably because the barcode on the destination tag has either come off or been removed. In this instance, your luggage is most likely still at the departure airport.
In any case, the counter staff will fill out a so-called "Property Irregularity Report". This is a form in which, among other things, your name, flight number and a description of the missing baggage are recorded. You will receive a printout of this.
Tip:
Before placing your luggage in the bag drop area, take a photo of it with your mobile phone. This will be useful in case you need to provide a description of the lost bag.
---
Bags or Belongings Lost at Alicante Airport
If for some reason you did not see your bag and it was left on the baggage carousel, it will be taken to Alicante Airport Lost Luggage Office in the Arrivals Hall. The same is true for any personal belongings that you might have lost at Alicante Airport.
Lost and found
In order to try and retrieve any lost items, please follow the procedure below:
Fill in a lost property claim form, which you can download on the AENA lost property page
When filling in the form, provide a detailed description of the lost item and attach a photograph, if possible.
Email the form to [email protected].
If the object is found or handed in, you will be contacted by the lost property office and given a reference number. 
You can pick up any lost and found property at the Alicante Airport Lost Property Office. You will need to provide your reference number and proof of identity.
If you are unable to pick up the object from Alicante Airport, you have the option of getting the item sent to you for a fee via a company called Grupo 21. Please see here for more information about the Grupo 21 service.
Lost Property Office opening times:
Monday to Friday (excluding public holidays) from 8.30 am to 2.00 pm
Contact:
E-mail: [email protected]
Telephone: + 34 966 919 444
---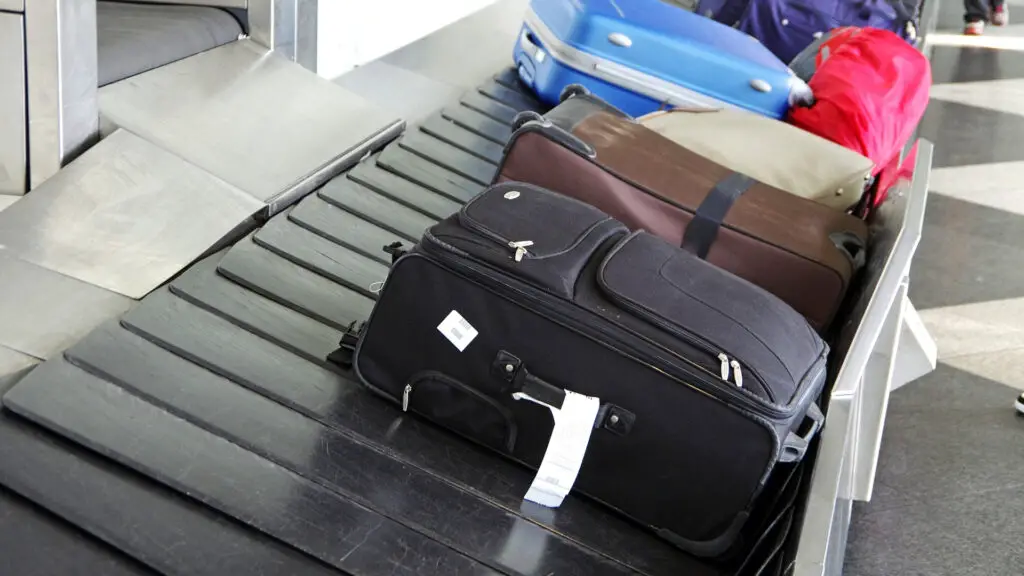 Luggage left on the carousel is taken to the lost luggage office
---
Items Lost on the Plane
If you think that you have left any bags or lost any personal belongings on the aircraft, please contact your airline directly. Please see here for airline contact details.
---
Companies that Handle Lost Luggage at Alicante Airport
Swissport Handling SA
Tel- +34 654 271 507
Location: Baggage reclaim area, level 0 + Check-in level 2
Swissport handles baggage for the following airlines:
JetXtra
SAS
Thomas Cook Belgium
Thomas Cook UK
Transavia.com
Volotea
Wizz Air
Iberia Airport Services
Tel- +34 966 919 013
Location: Baggage reclaim area, level 0
Iberia handles baggage for the following airlines:
Air Algérie
Air Nostrum
Holidays Czech Airlines
Iberia Express
Jetairfly
Orbest
S7 Airlines
Thomson Airways
Transaero
VIM Airlines
Vueling
Menzies Aviation
Tel- +34 966 919 060
Location: Baggage reclaim area, level 0
Menzies handles baggage for the following airlines:
Aer Lingus
Air Europa
EasyJet
Edelweiss Air
Flybe
Norwegian
Jet2.com
Tel- +34 966 919 386
Location: Baggage reclaim area, level 0
Azul Handling
Tel- +34 966 919 077
Location: Baggage reclaim area, level 0 + check-in level 2
Azul handles the following airlines: