Car Hire at Alicante Airport
Compare Prices for ALL Alicante Airport Car Hire Companies in 60 seconds
Low-cost Alicante Car Rental
Compare ALL Alicante Airport suppliers!
Special deals on many cars
CAR HIRE

at Alicante Airport
Comparing car hire at Alicante Airport is easy. Use the box above to get the best deals and collect your car hire from Alicante airport.
Some of the most popular car hire companies are found inside the terminal building, and they include Centauro car hire, Goldcar car rentals, Avis/Budget car, Europcar, Sixt, RecordGo, and Firefly, so saving time when collecting a car.
Car hire can be confusing, so we have put together this guide to help you with all aspects of renting a car at ALC Alicante Airport.
Whether you need advice on the different insurance policies, additional drivers, or fuel policies, this page will help you make an informed decision when booking your car.
The slider below provides a sample of low-cost car hire from Alicante Airport, based on hiring a car in summer for 14 days.
To get an accurate rate complete the box above with your dates and see prices in less than 60 seconds from all the car hire companies based at Alicante Airport.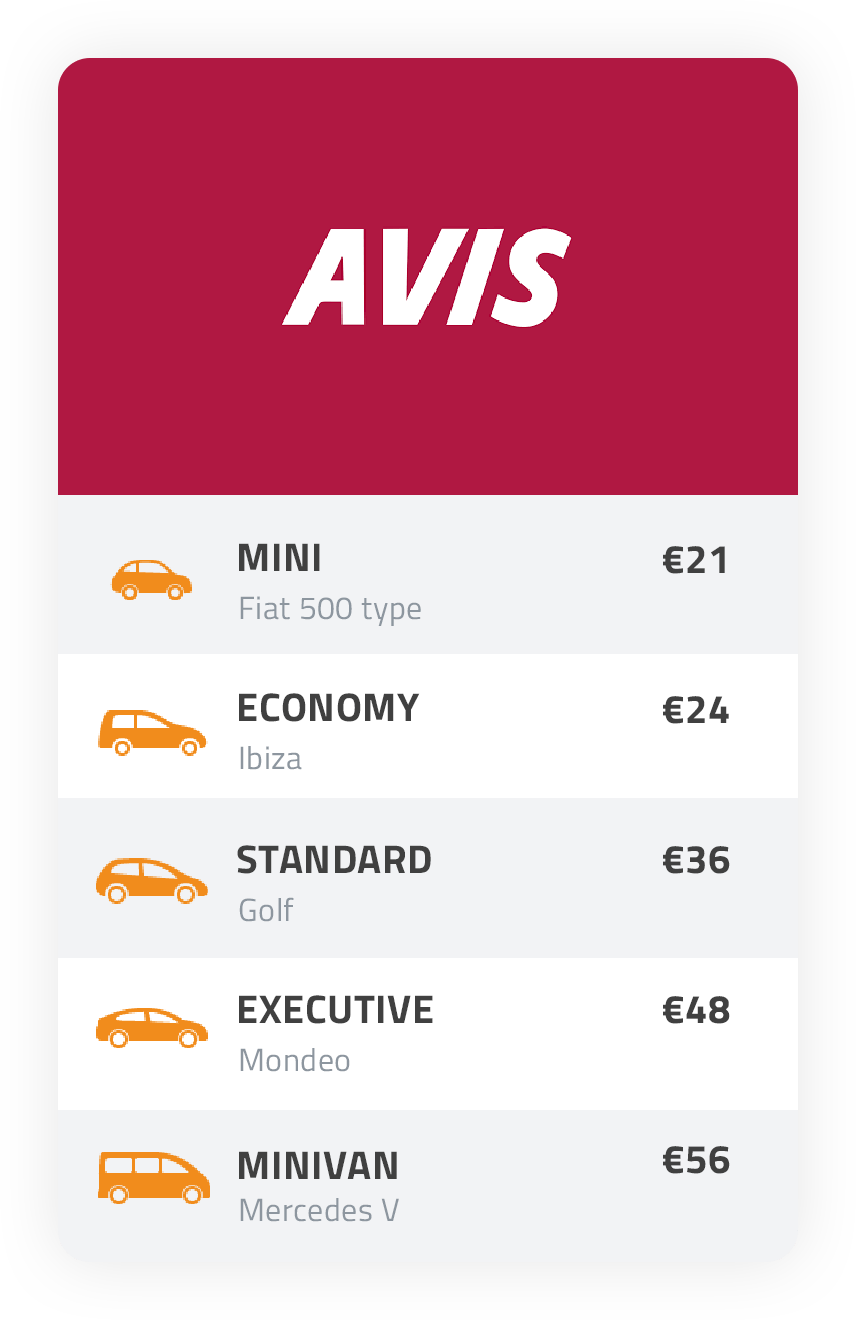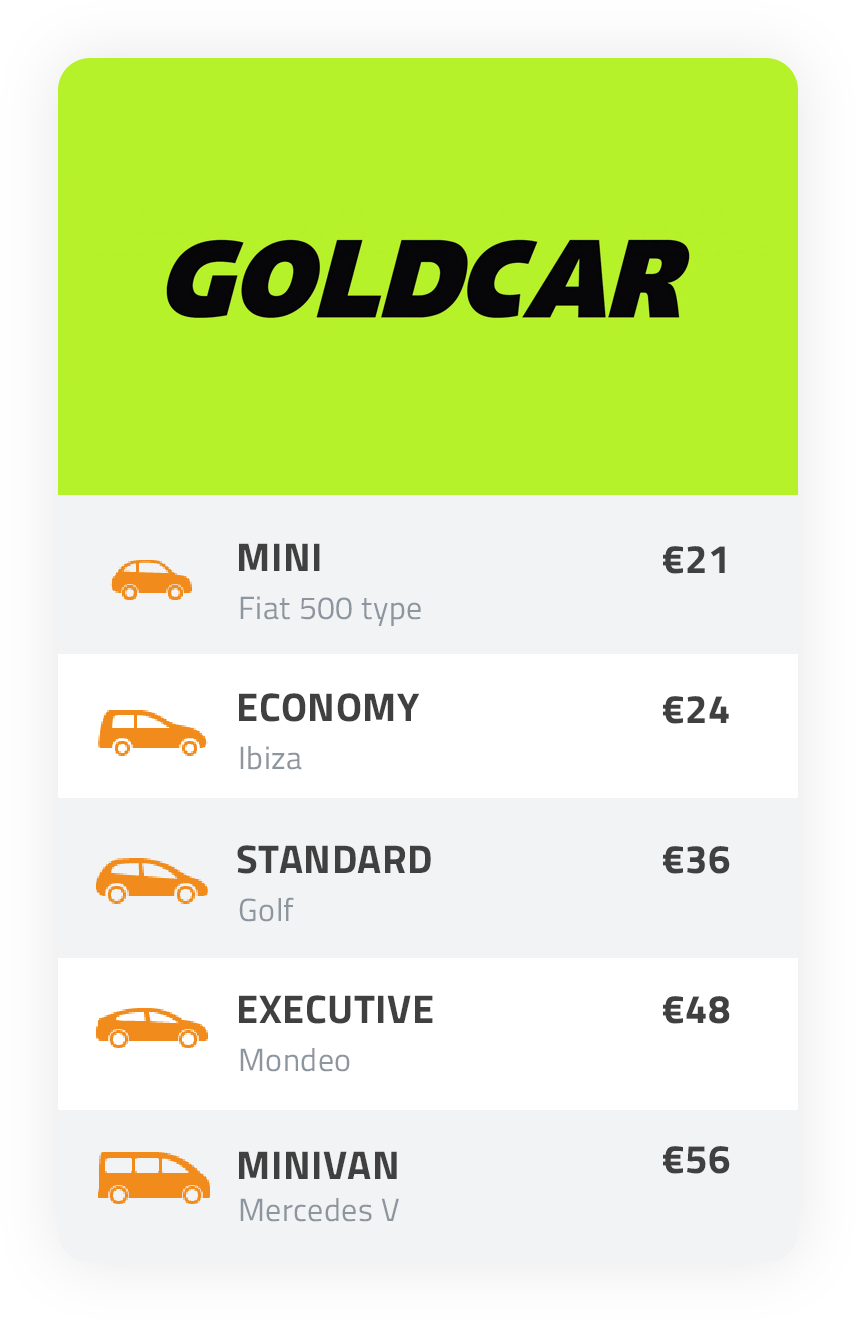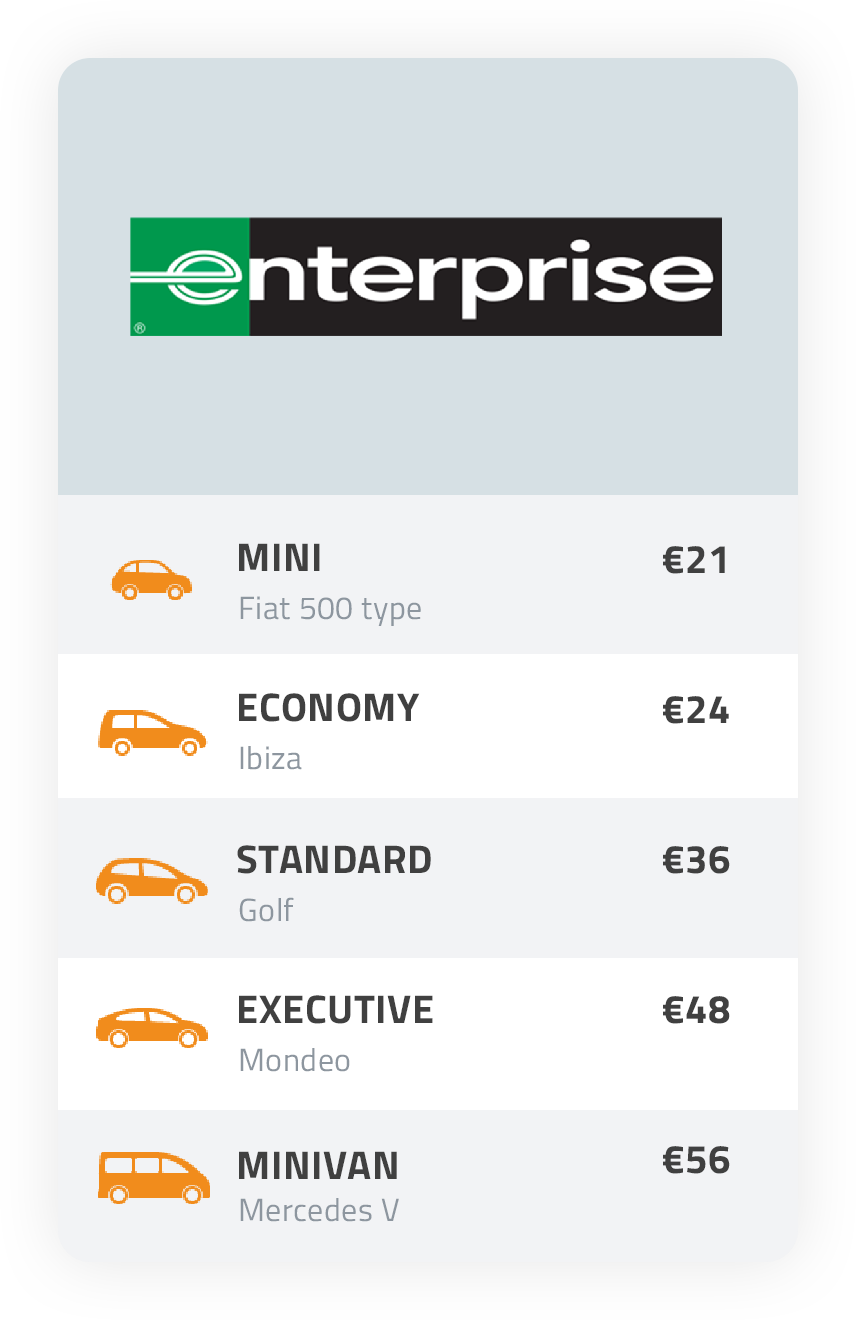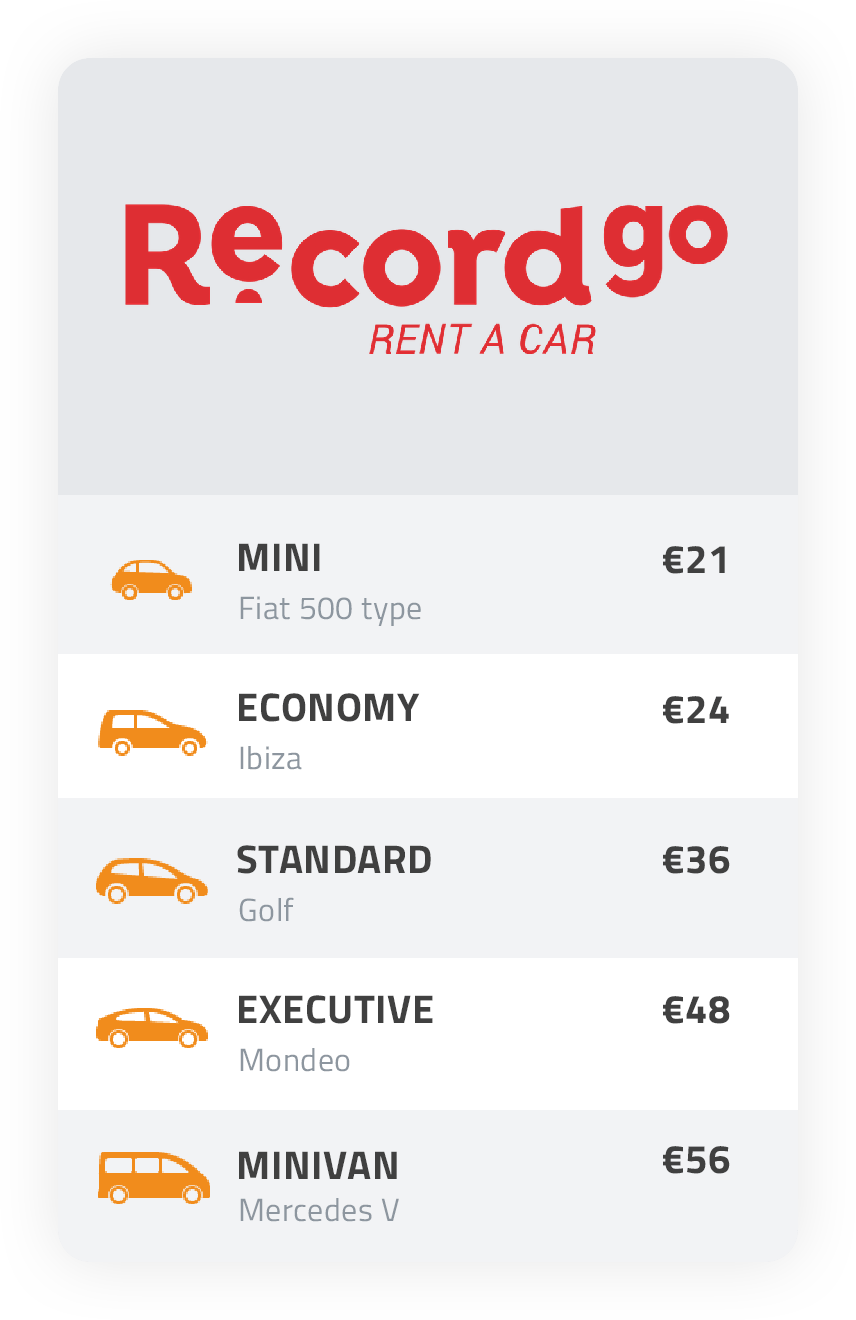 The cost of your car rental will depend on the fuel policy you choose, the time of year, the model of car and any optional extras such as additional drivers.
Sat Nav /GPS, child seats, additional drivers and WiFi will normally be subject to a daily charge to the cost per day of hiring a car.
Compare Car Hire
at Alicante Airport
Instead of spending hours visiting each car hire company, booking your car hire in advance means you can compare all the vehicles and prices online now.
Prices for daily car hire increase the nearer it gets to your holiday dates, so lock-in your rate by booking now. You will also have peace of mind knowing your car is booked and waiting for you to arrive.
Choosing the right car for you will depend on the size of your group or family and the amount of luggage you have. For example, if you are searching for a 7 seater vehicle, please be aware that most 7-seater people carriers only have a small boot space without much room for luggage.
For parties of 7 or above, it may be more economical to split your party and hire two budget vehicles or medium-sized cars. The ample room will prevent any shortage of space if everyone has a suitcase.
If you plan on travelling with hand luggage only and are a small party then cars such as a Fiat 500, Peugeot 108 or Toyota Aygo may be best for you.
When to book your Alicante car hire
Pre-book

Online
It's always best to book Alicante car hire online well before your travel date. Prices increase as you get nearer to the day you fly. By booking now you can take advantage of any 'early bird discounts' and choose from the best range of cars.
Consider first where you plan to pick up and return the car. Most companies will charge extra if you plan to drop off the car at it different location to the one you collected from.
On Arrival

At ALC Alicante Airport
It is possible to hire your car directly from Alicante airport upon arrival without pre-booking. You will need to visit the car hire desks in the arrivals hall and request prices etc. However, it will often be more expensive on the day than renting a car online in advance and your choice of vehicles will be limited.
Insurance
Alicante Airport ALC Car Hire Insurance and Car Breakdown Cover
Most car hire companies include some basic form of theft and damage insurance in their price.
It's important to remember that the car hire 'excess insurance' protects you from paying a large fee should you have an accident.  You can purchase this enhanced insurance at the time of booking or when you collect the car.
You will be grateful that you arranged the extra insurance and breakdown should you need to claim as the excess can be very steep without it.
One option to save on the 'excess insurance' cost is to purchase an annual plan through a separate provider such as Zurich. The cost of this policy is significantly cheaper than that of most car hire companies. You will need to bring a copy of this independent policy when collecting the hire car.
Remember to ask to see all paperwork and take time to read the small print before agreeing and signing your car hire contract so you know exactly what is covered.
Breakdown cover is usually provided at an additional cost that would need to be decided upfront.
Make sure you have your credit card and pin number with you when collecting the car.
If you don't have your credit card you won't be allowed to hire a car without first purchasing the car hire excess insurance offered at the airport.
The car hire company will place a block on your credit card for the excess amount until you return the car in the same condition.
If you do happen to return the car with damage, money may be deducted from your account to pay for the repairs.
Car Hire Extras
Your driving experience in Alicante and the Costa Blanca can be made even smoother by adding optional extras to your rental. These optional extras are charged per day and depending on the rental company you choose, they can be expensive even doubling the cost of your car rental.  
Here are some of the types of extras available:
Alicante Car Hire Fuel Policies
Fuel policy prices can differ drastically depending on the type of rental contract you choose. Nowadays most companies do not include a full tank of fuel with your car rental price meaning that you will need to take time to read the fine print and analyse your options.
To help ease the confusion here are some of the most common fuel policies available:
This is usually the cheapest option. You collect the car with a full tank and return it with a full tank. There are a couple of fuel stations close to Alicante airport making it easy to fill up the tank before you hand the car back. To avoid being charged for a full tank of fuel it's essential that you don't forget to fill up the tank! 
This means you buy a full tank of fuel from the rental company when you collect your car from Alicante airport and return it with an empty tank. The price for the initial tank of fuel is set by the car rental company so it can be more expensive than the price at the fuel pump. This type of policy is best suited to those who will be staying for over a week and will be doing a lot of driving. 
Similar to the policy above, but the main difference being that the remaining fuel in the tank will be calculated and refunded to your card. In addition, you will most likely be charged an admin fee as set out in the rental contract. 
Fuel Stations
Near Alicante Airport

If you need to return your car with a full tank of fuel the best petrol station for Alicante airport is Tangeria Galp station which is located two kilometres south of the airport, with stations in both directions along the A7 motorway. 
Requirements to hire a car at Alicante Airport
Most car rental companies will not accept drivers under the age of 21. Drivers between the ages of 21 to 25 may be asked to pay a young driver supplement and take out additional insurance. 
How to cancel your hire car
Generally, you may cancel your car hire for free for up to 24 hours before collection. However, we would recommend that you check the company's cancellation policy regarding this. 
Collecting your car
at
Alicante
Airport
To collect your hire car you will need your passport, driving licence, car hire booking reference and confirmation via email or a printed copy. You will also need a credit card. If you are a UK resident, it may be useful to have an international driving licence in advance to show at the rental desk. Although this may not be required until after January 2021.
Driving
in and around Alicante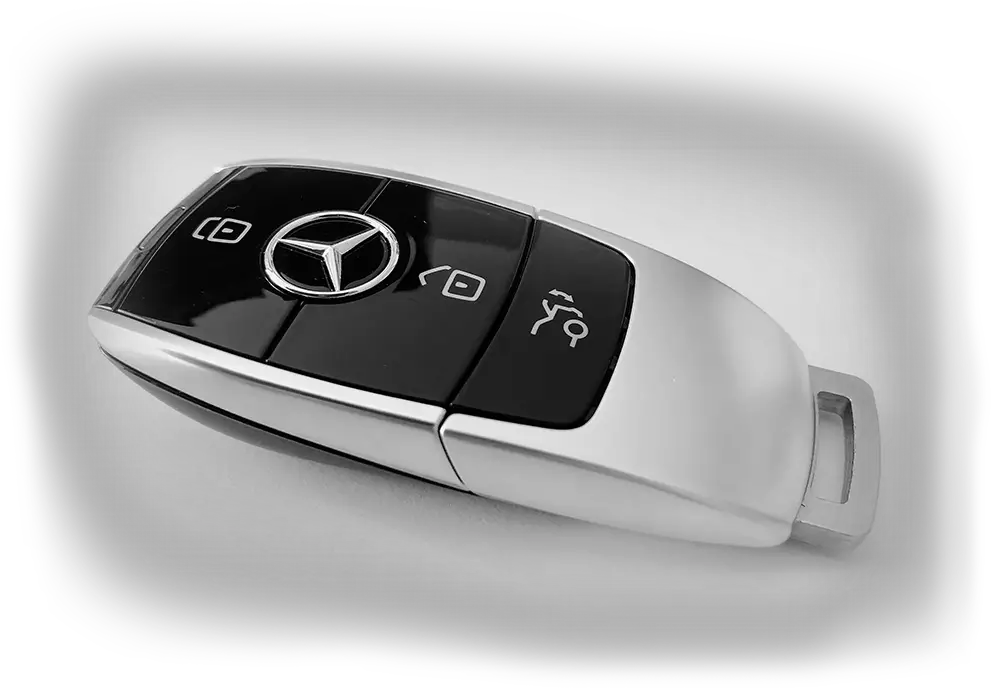 Avis / Budget car hire
Zona rent a car / Ground Floor Arrivals area
Website: http://www.avis.es
Phone: +34 902 10 98 08 / +34 902 248 824
Goldcar
Zona rent a car / Ground Floor Arrivals
Website https://www.goldcar.es/en/offices/goldcar-alicante-airport-office/
E-mail: [email protected]
Teephoine +34 918 34 40 64
Holdcar Alicante Collection Office: Airport terminal Aeropuerto de Alicante, 03195 El Altet, Alicante.
Europcar / Inter Rent
Zona rent a car / Ground Floor Arrivals
Website: http://www.europcar.es
Email: [email protected]
Europcar Bookings / customer service:+34 911 50 50 00
SIXT Car Hire
Zona rent a car / Ground Floor Arrivals / Zona rentacar
Website https://www.sixt.co.uk/car-hire/spain/alicante
E-mail: Contact form email https://www.sixt.co.uk/contacts/contact-form/
Sixt Bookings / Sixt Customer Service: +34 871 18 01 92
Enterprise, Alamo, National
Zona rent a car / Ground Floor Arrivals
Website: http://www.enterprise.es
Enterprise Bookings: 902 100 101
Record Go Car Rentals
Zona rent a car / Ground Floor Arrivals
Website: http://www.recordrentacar.com
E-mail: [email protected]
RecodGo Bookings: 902 123 002
Hertz – Thrifty
Ground Floor Arrivals /  Zona coche de alquiler
Website: http://www.hertz.es
Hertz customer servoces and bookings: 902 402 405