Home » Airport Info »
Security Check at Alicante Airport
What is the procedure at the security check at Alicante Airport? What can be carried as hand luggage, which items are restricted? What can I do to save time at the security checkpoint?
Airports are divided into two distinct zones:
The public area, or landside, where you complete your check-in.  
The security area, also called airside or passengers-only zone, where you can board your plane.
Before you are allowed to enter the airside of an airport, you will need to go through security control.
---
Alicante Airport security control
Procedures at Alicante security check
The security measures at Alicante Airport are based on the Spanish National Security Programme as well as European regulations, and compliance with these is mandatory.
Boarding pass
Your will need to scan your boarding pass before you can enter security control, so make sure you have this to hand.
X-ray machines for hand luggage
You will need to place all of your hand luggage, as well any loose and metal objects such as jackets, hats, or watches on a tray, ready to pass through the x-ray machine. This allows airport security staff to screen your belongings on a monitor to ensure that no prohibited items enter the security zone. Please remember to remove any electronic items, e.g. laptops or tablets, as well as liquids from your bag, and to place these on a separate tray.
Walk-through metal detectors and manual searches
Next, you will need to walk through a metal detector, an archway that looks much like a door frame. You may need to wait your turn, as only one person at a time can walk through the metal detector. If the detector alarm goes off when passing through, a member of the security team will take you aside. They will ask you to double-check and remove any metal objects that triggered the alarm and to walk through the detector a second time. Alternatively or in addition, you may also be scanned with a handheld metal detector or body searched.
---
Which items cannot be carried in hand luggage?
Prohibited items include anything that is deemed as hazardous for people or aircraft and could be used as a potential weapon, e.g.
Knives and scissors with a sharp or pointed blade longer than 6cm (scissors with blunt ends are permitted)
Razor blades
Tools
Darts
Sports bats, clubs or cues
Catapults or slingshots
Hypodermic syringes (unless for medical reasons)
Firearms of all types, including toy guns, replicas and imitation firearms
Party poppers
Acids, bleach, poisons
Flammable liquids
Explosives
Incapacitating sprays
Ignitable gas devices
Compressed gas or air
Please note that this is not an exhaustive list. For further information please see the Civil Aviation Authority website or contact your airline.
What about liquids?
You can take liquids, gels, creams, and pastes with a maximum of 100ml in each container. You must place these containers in a transparent, re-sealable plastic bag of 20cm x 20cm. The plastic bag containing these liquid containers must be taken out of your hand luggage and placed on a separate tray to go through the x-ray machine. Examples of these items include:
Creams and lotions
Sun-tanning/sun cream products
Hairspray and aerosols
Roll-on deodorants
Nail varnish
Lip gloss
Liquid soap
Toothpaste
Mascara
Contact lens solution
Can I bring baby food?
When travelling with a baby under 2 years of age, you're allowed to take baby food, baby milk, and sterilised water in excess of 100 ml. As a general rule, you can take sufficient amounts to last for the entire journey. Airport security staff may need to check the liquids and may ask you to take a sip yourself to ensure that the containers do not contain anything harmful.
Can I bring matches or a lighter?
You can carry one book or packet of matches or one lighter per person in your hand luggage. A lighter must be placed in your re-sealable transparent plastic bag with the rest of your liquids.
For information on hold luggage regulations, please see our page "Baggage allowances and regulations".
---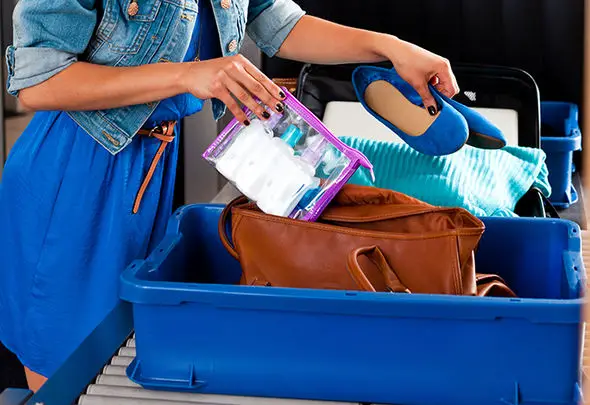 Liquids must be taken out of your bag and placed on the tray
---
How can I save time at the Alicante Airport security check?
Start preparing at home
Prepare your hand luggage
Put your liquid containers in a transparent resealable bag (20 x 20cm), ready to go on a tray at security.
Make sure that you have easy access to any electronic items, as you will need to remove these from your bag or rucksack when you get to security.
Keep your boarding passes within easy reach. It is worth taking a spare copy just to be on the safe side.
Think about what you pack
Keep your hand luggage to a minimum. The less you are taking through security control, the quicker the process will be.
Ensure that you don't have any prohibited items in your hand luggage
Think about what you wear
Boots with thick soles or high heels may need to be removed at security control, which will slow you down.
Avoid certain items of clothing that may trigger the alarm (e.g. trousers with integrated metal buckles, tops with sequins)
At Alicante Airport
Take a moment before you proceed through security
Make sure you have your boarding pass ready for scanning
"Analyse" the queues – those with business travellers tend to move faster than those with families and holiday makers. Statistics have shown that most people choose the queue on the right hand side. Make sure to check whether the queue on the left is shorter.
When it's your turn to be screened
At the x-ray machine, remember to put your liquids and electronic items on a separate tray.
Remove any jewellery, watches or belts that might trigger the alarm and put these on a tray.
Be friendly and polite
If you are questioned by security staff, being friendly and polite will go a long way in moving things along as quickly as possible. It is worth keeping in mind that the procedures are in place to ensure everyone's safety when flying.
---