Compare Car Hire Prices at ALC Alicante Airport
Monday, August 2nd, 2021
With the Summer season already upon us and more flights resuming during August 2021 most people arriving at Alicante airport need to hire a car or book an airport transfer to get them to their final destination. So today we want to look at the price and best value for money for car hire at ALC Alicante airport. We will aim to find the best company when it comes to the overall cost and payment methods, ease of booking, possible cancellation policy. What are the best car hire prices at Alicante Airport?
Why You Shoud Pre-book
When you arrive at Alicante airport you'll collect your luggage and make your way to the car hire rental hall. Let us be honest, this is not the time to try to get the best price by asking each person at the desk the price. In peak season many of the car hire desks have queues so that method would take forever! It is far better to pre-book your car hire online from the comfort of your home and analyse the best price and lock that price in.
So the first thing to establish is to pre-book your car hire before you travel. It makes life so much easier when at the airport as you know which car hire company you've booked with and then it's just a matter of finding the hire companies desk. Also, you will be sure to be getting a good deal on the price.
So why do we recommend pre-booking:
Best price guaranteed!
Saves time at the airport. It will be quicker to find the rental desk and they'll have your car hire ready to drive away!
Peace of mind that you have a good price and you want have any nasty surprises at the desk.
In busy times of the year there may be high demand for car hire so getting the size of car you need could be difficult.
Which Car Hire Comparion Website?
There are many comparisons websites around. A quick google search will highlight just how many there are. Nearly all of them use the same process to crawl through the various car hire companies to show you the best price available.
It's good to remember these search engine comparison websites only direct you to car hire agents. When you book a car you are dealing with that car hire company offering the best price or deal. Just like when you compare house insurance or other products using a comparison site.
The car hire at Alicante airport comparison feature on this website is an excellent way to see what the current best prices are and allow you to pre-book your car hire.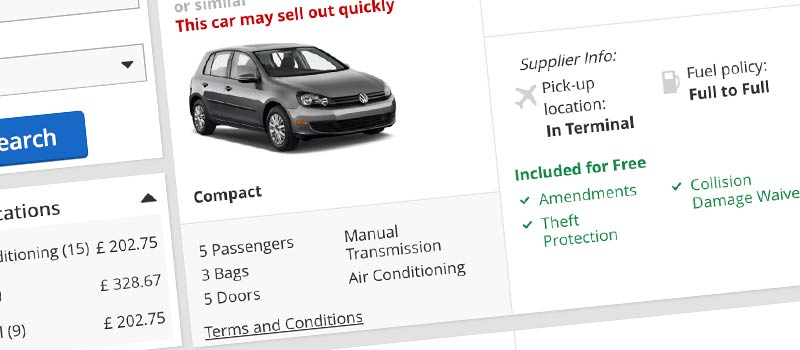 Best Price at Alicante airport!
Once you have found your best price and are happy to proceed, you can pay a deposit to secure the price or pay the full amount. Either way, you'll be given a voucher with all the information needed with the price guaranteed.
Pre-booking your car is surely the way to go! If you're planning a trip to Alicante then check out the car hire prices and enjoy the luxury of having the freedom of the open road as you explore the wonderful sights of Costa Blanca.
---