Home » Locations » Holiday Rentals, Villas & Apartments »
Cuatre Finques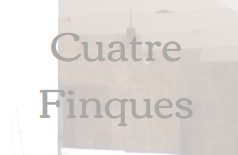 Cuatre Finques is a unique, family owned Spanish-style finca which opened in May 2014.
Cuatre Finques has 7 en suite bedrooms, uniquely designed with style and comfort in mind. There are 3 double/twin rooms on the ground floor, 3 double/twin bedrooms plus 1 family suite on the first floor, sleeping 14-16 adults in total.
All rooms have air-conditioning, Bluetooth speaker, free WiFi, safety deposit box, sun hats and hairdryer.
Contact Cuatre Finques
Telephone: +34 622 834134
Email: hola@cuatrefinques.com
Website: www.cuatrefinques.com
Address: Camino Mento, 7a, Xalo (Alicante), 03727, Costa Blanca, Spain