Home » Locations » Hotels »
Hotel Restaurante La Escondida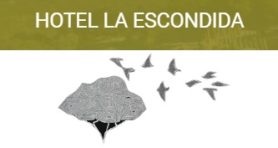 When we talk about Hotel Restaurante La Escondida, we are faced with a dilemma, starting by detailing their excellent hotel services or talking about the elegance of their cuisine. The most just thing is to dedicate the same time.
Live the Costa Alicantina in an exclusive restored farmhouse of the seventeenth century, a unique and special place where you will enjoy an intimate, cozy and unforgettable stay.
Decorated with a Rustic Chic style, their rooms are the ideal setting for a perfect and pleasant stay. Each of them adopts a unique and different character.
The colors of the rooms (and of all their decoration in general) are influenced by the countryside and olive groves that surround them. The furniture that you will find in the property has been designed and made by hand in exclusivity for their Boutique Hotel La Escondida.
Their kitchen offers a wide range for all palates where they play traditional recipes, gourmet products and local harvests. A culinary seasonal offer, with a minimalist and elegant character, without losing the simplicity of each product.
The gastronomic experience of La Escondida is not only to satisfy the palate with the most exquisite elaborations, it is to delight the view with their wonderful panoramic from the terrace, which feels the warmth of their rustic atmosphere and the warmth of the fireplace in the after-dinner in the days cooler It is eating surrounded by natural beauty listening to the song of birds, let yourself be pampered by their professional team and toast for life with one of their wines or champagne that they have carefully selected.
The wonderful facilities make them able to offer a lot of activities and entertainment options. Enough temptation to make you not want to leave La Escondida until the end of your stay.
For the most active, there is a wide range of activities that can be organized through the Hotel: hiking, bicycle rental, horse riding, golf, rural tourism and visits to nearby towns full of natural beauty.
Contact Hotel Restaurante La Escondida
Telephone:
(34) 965 51 30 46
Email:
laescondida@singularshr.com
Website:
www.hotelescondida.com
Address:
Road Alcoy-Penáguila s / n km.9, CP. 03815 Penáguila, Alicante, Spain