Home » Locations » Hotels »
Noguera Mar Hotel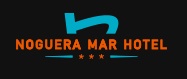 The Noguera Mar Hotel is located in Punta de l'Estañó, in one of the most romantic places in all Dénia beaches because of its fantastic views to Costa Blanca (Spain). From the rooms and from the terrace you will be able to enjoy the views of the picturesque bay and to the Mediterranean Sea during your holidays in Spain.
The history of the Noguera Mar Hotel goes back to the 1960s, although the hotel was completely remodeled and reopened in 2005, becoming one of the most romantic hotels in Dénia and the perfect choice for your holidays in Spain.
The Noguera Mar Hotel has the charm of an intimate and romantic accommodation, and the peace around it will make you relax just by listening to the sea waves. Also, their hotel offers bright rooms with the sea as a leitmotiv for its decoration, and with very romantic views to the sea from its balconies and terraces.
In their romantic hotel in Dénia beach, they have paid attention to the tiniest details to offer their clients the best services for their holidays in Dénia beach.
Contact Noguera Mar Hotel
Telephone: 966 47 56 50
Email: info@nogueramarhotel.com
Website: https://nogueramarhotel.com
Address: Ctra. Les Marines km. 6, C/ Llac Major,3 03700 DÉNIA